Resident Corner
Anatomy in relation to left colectomy
This video (Figure 1) shows the laparoscopic exploration of the abdomen before a laparoscopic left colectomy. A live demonstration of the anatomical details and landmarks is given.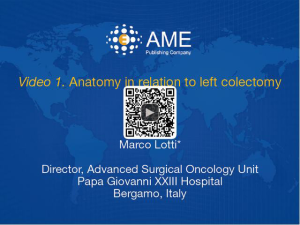 I suggest this video (Figure 1) to my residents as a preparatory tool, before performing a laparoscopic colectomy.
In the recent years, an advice toward centralization of colorectal surgery to high-volume centers has been given by many authors. Nevertheless, the association between caseload and outcomes is still questionable and the majority of laparoscopic colectomies are still performed by low-volume surgeons. Accordingly, I believe that providing local services with adequate surgical education and training tools could be a better strategy to improve outcomes and global health.
As a part of this strategy, I became engaged in the development of simplified and easy-to-learn laparoscopic surgical techniques (2-4), which I consider a valuable and complementary tool to help my residents build their learning curve and achieve a reliable experience.
Please, take your time with this video. I hope it will be of help for your growth as surgeons.
Acknowledgements
None.
---
Footnote
Conflicts of Interest: The author has no conflicts of interest to declare.
Informed Consent: Written informed consent was obtained from the patient for publication of this manuscript and any accompanying images.
---
References
Lotti M. Anatomy in relation to left colectomy. AOS 2018;2:v001. Available online: http://aos.amegroups.com/post/view/2018072401
Lotti M, Poiasina E, Panyor G, et al. A standardised and simplified technique for laparoscopic resection of the splenic flexure. J Minim Access Surg 2018. [Epub ahead of print]. [Crossref] [PubMed]
Lotti M, Poiasina E, Panyor G, et al. Mobilization of the right colon for Chilaiditi syndrome in a 38-year-old patient. E-publication in WeBSurg.com 2017;17.
doi: 10.21037/aos.2018.08.01
Cite this article as: Lotti M. Anatomy in relation to left colectomy. Art Surg 2018;2:1.